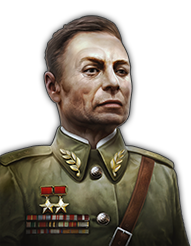 Vasily Stepanovich Petrov
Commander of Artillery
Description
BIOGRAPHY
The twice Hero of the Soviet Union Colonel General Vasily Stepanovich Petrov is the only officer in the world to have fought without both hands. The decisiveness and accuracy he employed when completing missions became legendary before the war had even ended.
Vasily Petrov entered the front during the first month of war and fought until its end. Having miraculously fought his way out of the encircled Kiev at the start of German offensive, he returned to Ukraine in 1943 to push the enemy off of the right bank of the Dnieper.
Captain Petrov himself directed the fire of his batteries, and when the crew of one of his guns was incapacitated, he and his batman rushed to it, resumed fire, and destroyed a Ferdinand self-propelled gun. Badly injured after a direct hit on his gun, he refused to leave the battlefield. Only after the enemy's counterattacks were repelled and the positions were secured did Petrov allow himself to be evacuated to the medical support battalion.
The loss of both his hands did not stop Vasily Petrov from resuming military service in 1944. His courage and heroism were later recognized by Josef Stalin with a life-term position with the Red Army.
EFFECTIVENESS ON THE BATTLEFIELD
Having barely escaped encirclement before, Petrov is scrupulous in his choose of troops, knowing that the situation may change at any moment. He relies on AT infantry, multiple launch artillery, AT guns, and howitzers to avoid a direct fight between his main forces and the enemy's vehicles and personnel. To support and escort his main formations, he uses medium tanks and regular infantry.
Specializations
Talents
Howitzer Barrage

Several heavy shells that deal serious damage to all enemy units.

Howitzer Barrage: Supply Points required: less by 1

Reconnaissance Aircraft

Request a reconnaissance plane, which can locate enemy forces on the map.

Reconnaissance Aircraft: Supply Points required: less by 2

Area Awareness

Corrected maps optimize routing for light vehicles and medium tanks, increasing their speed.

Medium Tank, Light Tank, Light Vehicle: +2 Movement speed

Threat to Armoured Vehicles

Anti-tank infantry is equipped with modified armour-piercing ammo. Gunners in light vehicles have their sight and hitting range increased.

Light Vehicle: +12 Sight range; +10 Shot range

Anti-Tank Infantry: +20% Armour penetration

Perfectionist

Modifications made in front line workshops improve the armour and durability of light vehicles and medium tanks.

Medium Tank, Light Tank, Light Vehicle: +30% Construction Quality (Vehicles) / Endurance (Infantry); +15% Armour

Experienced Gunner

Studying captured guns has resulted in engineering changes for domestic howitzers and their shells. This has increased their range, power, and area of damage.

Howitzer: +15 Shot range; -40% Reload time; +4 Fragmentation radius

Engineering Mind

A new concrete mixture helps increase the durability of pillboxes.

MG Nest: +200% Construction Quality (Vehicles) / Endurance (Infantry)

Noise Barrier

Explosive ammo increases the number of casualties caused by anti-tank guns. In addition, explosions can stun enemy troops after a successful hit.

Anti-Tank Gun: -40% Reload time; +20% Chance to stun