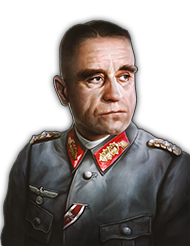 Walter Heinz
Commander of Artillery
Description
BIOGRAPHY
Young Walter began his military service in March 1898 as an officer candidate with an artillery regiment. He entered World War I as a battery commander, with the rank of captain. From 1916 on he commanded an artillery battalion, and by the end of the war he had received a number of decorations, including the Iron Cross, 1st Class.
During the Invasion of Poland in 1939 he commanded forces in Danzig, and he later took part in the Battle of France. In the Russian Campaign he commanded the 8th Army Corps in Army Group Centre. He took part in the capture of Minsk, the Battle of Smolensk, and the Battle of Moscow. In 1942 he was transferred to Paulus's army.
At Stalingrad, Heitz held his sector of the front with an iron grasp. His soldiers fight to the last, even when surrounded, and ignore the enemy's attempts to negotiate.
EFFECTIVENESS ON THE BATTLEFIELD
Being a seasoned veteran, Heitz knows the worth of each soldier and how each can influence the outcome of the entire battle. He uses AT infantry, multiple launch artillery, AT guns, and howitzers to hold the line of fire far enough away from his medium tanks and regular infantry units. On offensive operations he uses incendiary shells, large smoke screens, and tank reinforcements, while his defensive tactics rely on the use of machine gun pillboxes to cover his artillery.
Specializations
Talents
Howitzer Barrage

Several heavy shells that deal serious damage to all enemy units.

Howitzer Barrage: Supply Points required: less by 1

Reconnaissance Aircraft

Request a reconnaissance plane, which can locate enemy forces on the map.

Reconnaissance Aircraft: Supply Points required: less by 2

Area Awareness

Corrected maps optimize routing for light vehicles and medium tanks, increasing their speed.

Medium Tank, Light Tank, Light Vehicle: +2 Movement speed

Threat to Armoured Vehicles

Anti-tank infantry is equipped with modified armour-piercing ammo. Gunners in light vehicles have their sight and hitting range increased.

Light Vehicle: +12 Sight range; +10 Shot range

Anti-Tank Infantry: +20% Armour penetration

Perfectionist

Modifications made in front line workshops improve the armour and durability of light vehicles and medium tanks.

Medium Tank, Light Tank, Light Vehicle: +30% Construction Quality (Vehicles) / Endurance (Infantry); +15% Armour

Experienced Gunner

Studying captured guns has resulted in engineering changes for domestic howitzers and their shells. This has increased their range, power, and area of damage.

Howitzer: +15 Shot range; -40% Reload time; +4 Fragmentation radius

Engineering Mind

A new concrete mixture helps increase the durability of pillboxes.

MG Nest: +200% Construction Quality (Vehicles) / Endurance (Infantry)

Noise Barrier

Explosive ammo increases the number of casualties caused by anti-tank guns. In addition, explosions can stun enemy troops after a successful hit.

Anti-Tank Gun: -40% Reload time; +20% Chance to stun