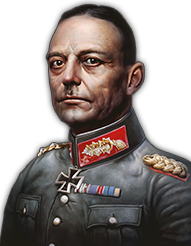 Gerd von Rundstedt
Commander of Preparation Fire
Description
BIOGRAPHY
A Prussian nobleman by birth, Field Marshal General von Rundstedt was one of the most experienced commanders in the German Army. He was commissioned as a lieutenant in 1893 and later studied at the General Staff Academy and served in various positions in the army, including a position on the General Staff.
He entered World War I in the Battle of the Marne and the advance to Russia. He ended the war as a major and chief of staff of the 15th Corps in France.
His career advanced between the wars, and when Hitler came to power, Rundstedt was the commander of the 1st Army Group in Berlin, with the rank of infantry general. During the war he played a key role in the Battle of France, for which he was promoted to field marshal. He commanded the occupation forces on the Western Front.
He led Army Group South during the invasion of the USSR, and after a conflict with Hitler after the battle of Rostov-on-Don, he was sent on vacation and later moved to the Western Front. During his service on the Eastern Front, he and his forces made up of mostly infantry made a confident advance and took the troops on the Red Army's South and Southwest Fronts captive.
Awarded with many decorations, he was never afraid of expressing his opinion on various issues in a direct and non-compromising way, for which he was forced to resign four times (and later recalled). He called Hitler "Gefreiter," protested against the political persecution of General Fritsch, and said that military decisions should be made separately from politics.
EFFECTIVENESS ON THE BATTLEFIELD
This commander relies on machine gunners and tank destroyers, clearing the way for them with accurate artillery fire from howitzers and mortars.
Specializations
Talents
Howitzer Barrage

Several heavy shells that deal serious damage to all enemy units.

Howitzer Barrage: Supply Points required: less by 1

Attack Aircraft

Request an attack aircraft to attack targets in specified area.

Attack Aircraft: Supply Points required: less by 3

Storm of Lead

The well-coordinated actions of the gunner and the loader significantly increase the rate of fire and the shooting range of machine gun crews.

Machine Gunners: +10 Shot range; -40% Reload time

Reliable Soldiers

Experienced tank destroyer gunners are trained to deliver effective fire against group targets. The explosion radius and damage of their shots are increased.

Tank Destroyer: +25% Damage to infantry, Damage to vehicles; +4 Fragmentation radius

Ballistician

The skilful selection of coordinates for MLRS fire results in an extremely high chance of damaging the movement and aiming systems of enemy armoured vehicles.

Rocket Artillery: +10% Chance to jam weapon, Chance to damage tracks

Wall of Fire

The commander takes extra measures to improve the combat effectiveness of machine gun bunkers. The shooting range and damage dealt by all guns are increased.

MG Nest: +15 Shot range; +25% Damage to infantry, Damage to vehicles

Our Agents

The commander gains the locals' confidence and receives more accurate information on the area, which increases the effective shooting range of mortars and the chance of stunning the enemy.

Mortar: +20% Chance to stun; +15 Shot range

Succeed in Numbers

An extra loader is assigned to AA gun crews, increasing their rate of fire.

Anti-Aircraft Gun: -40% Reload time