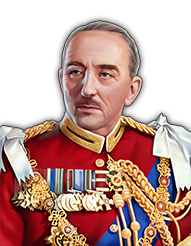 Alan Francis Brooke
Commander of Artillery
Description
BIOGRAPHY
Viscount Alan Francis Brooke was born in a long line of Irish officers. In 1902, after graduating from the Royal Military Academy, he joined the Royal Artillery Regiment. By the end of World War I, which he spent at the Western Front in France, he was the 1st British Army's senior artillery officer.
With his a reputation as a talented artillery officer, Brooke secured robust artillery support for Belgian, French, and British troops evacuating from Dunkirk in 1940. After promotion to the Imperial Staff, "Brookie" was not afraid to argue with Churchill on important matters, and their relationship remained tense even after the war.
Churchill appreciated Brooke's actions and made no attempts to replace him with a more "loyal" person, as he recognized him as a useful and competent arguer and would never appoint a yes man to a top military position.
He planned the Allies' strategic operations. He believed that the result of the war would be determined by the Allies entering Western Europe and making a joint advance on Germany, but as a prerequisite for invasion he considered clearing North Africa and Mediterranean of German and Italian troops. This would secure the rear of the Allied armies and give them the opportunity to make a third strike on Germany from South. This strategy was generally adopted by the Allies, which is why Brooke is considered one of the main contributors to Germany's strategic defeat. He argued fiercely about it with the top commanders of the US, who mostly supported the idea of a landing operation in Western Europe before the Mediterranean was cleared.
EFFECTIVENESS ON THE BATTLEFIELD
The old nobleman Brooke believed a reliable defence to be better that a direct advance. He uses AT infantry, multiple launch artillery, AT guns, and howitzers skilfully to support his medium tanks and regular infantry in order to minimize losses. He uses these medium tanks and regular infantry units in turn to support and escort his main forces.
Specializations
Talents
Howitzer Barrage

Several heavy shells that deal serious damage to all enemy units.

Howitzer Barrage: Supply Points required: less by 1

Reconnaissance Aircraft

Request a reconnaissance plane, which can locate enemy forces on the map.

Reconnaissance Aircraft: Supply Points required: less by 2

Area Awareness

Corrected maps optimize routing for light vehicles and medium tanks, increasing their speed.

Medium Tank, Light Tank, Light Vehicle: +2 Movement speed

Threat to Armoured Vehicles

Anti-tank infantry is equipped with modified armour-piercing ammo. Gunners in light vehicles have their sight and hitting range increased.

Light Vehicle: +12 Sight range; +10 Shot range

Anti-Tank Infantry: +20% Armour penetration

Perfectionist

Modifications made in front line workshops improve the armour and durability of light vehicles and medium tanks.

Medium Tank, Light Tank, Light Vehicle: +30% Construction Quality (Vehicles) / Endurance (Infantry); +15% Armour

Experienced Gunner

Studying captured guns has resulted in engineering changes for domestic howitzers and their shells. This has increased their range, power, and area of damage.

Howitzer: +15 Shot range; -40% Reload time; +4 Fragmentation radius

Engineering Mind

A new concrete mixture helps increase the durability of pillboxes.

MG Nest: +200% Construction Quality (Vehicles) / Endurance (Infantry)

Noise Barrier

Explosive ammo increases the number of casualties caused by anti-tank guns. In addition, explosions can stun enemy troops after a successful hit.

Anti-Tank Gun: -40% Reload time; +20% Chance to stun