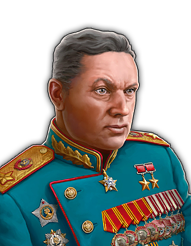 Konstantin Konstantinovich Rokossovsky
Commander of Combined Operations
available in Strategic and Deluxe Editions
Description
BIOGRAPHY
In 1914, young Konstantin Rokossovsky volunteered to join the 6th Squadron of the Kargopolsky 5th Dragoon Regiment. During World War I, he established his reputation as a brave and resolute soldier, was highly decorated, and under the Provisional Government was promoted to junior non-commissioned officer and served on his regiment's committee.
At the beginning of World War I, he wore down the enemy at the Lutsk-Dubno-Brody triangle, finally retreating only when ordered to do so. At Smolensk, he formed "Group Yartsevo" from the surviving remnants of armies and successfully lifted the blockade of the surrounded Soviet troops. In the Battle of Moscow, General Rokossovsky displayed his talent for command once more by gathering his army, organizing a solid defensive line, and driving the enemy far from the capital city.
Later, Rokossovsky commanded the Don Front, developing and successfully implementing Operation Uranus, which surrounded General Paulus's army at Stalingrad. Thus the newly-promoted colonel general took Field Marshal Paulus, 24 generals, 2500 officers, and 90,000 soldiers prisoner.
In the Battle of Kursk, his analysis of intelligence data was brilliant. With impeccable timing, he focused on the positions the enemy planned to strike. He also took an innovative approach, using artillery counterattacks to ensure the reserves could be moved to other areas of the front. This made Rokossovsky an extremely popular Soviet commander in the West.
Another operation that demonstrated the commander's talent was Operation Bagration, which he developed in conjunction with Georgy Zhukov and Aleksandr Vasilevsky. In this operation, coordinated movement along two main attack vectors led to the destruction of Army Group Centre.
Towards the end of the war, Rokossovsky became a Marshal of the Soviet Union, commanding the 2nd Belorussian Front. Konev and Rokossovsky provided support for Zhukov's invasion of Berlin. His brilliant operations and manoeuvres resulted in the destruction of German groups in East Prussia and Pomerania and also kept the 3rd Panzer Army out of the Battle of Berlin.
EFFECTIVENESS ON THE BATTLEFIELD
This General counts on the mass onslaught of medium tanks, tank destroyers, and light vehicles actively supported by regular infantry and machine gunners. Well-equipped pillboxes can better withstand vehicles, while mines and mortars have a chance of stunning enemies.
Specializations
Talents
Bomber

Call in a heavy bomber to launch a heavy bomb strike at the target area.

Bomber: Supply Points required: less by 2

Large Smoke Screen

Prevents attacks within a certain range.

Large Smoke Screen: Supply Points required: less by 1

Prepared for Battle

...though always demanding, Konstantin Konstantinovich respected people regardless of their rank and position." Infantry under Rokossovsky's command have increased shooting range, damage, and survivability on the battlefield.

Active Duty Infantry: +30% Construction Quality (Vehicles) / Endurance (Infantry); +10 Shot range; +25% Damage to infantry, Damage to vehicles

Progressive Views

Equipping vehicles with the results of advanced military research increases the damage dealt by tank destroyers and the effectiveness of light vehicles for terrain reconnaissance.

Tank Destroyer: +25% Damage to infantry, Damage to vehicles

Light Vehicle: +12 Sight range; +2 Movement speed

Father to the Soldiers

Rokossovsky is well aware of his soldiers' needs and gives orders to improve their supply situation. Medium and light tanks, tank destroyers, and machine guns under Rokossovsky's command have higher survivability on the battlefield.

Medium Tank, Light Tank, Tank Destroyer, Machine Gunners: +30% Construction Quality (Vehicles) / Endurance (Infantry)

A Soldier's Life

The commander introduces a shift system for soldiers who hold bunkers. Resting positively affects aimed fire distance and damage dealt to armoured vehicles.

MG Nest: +25% Damage to vehicles; +8 Shot range

Hail of Splinters

The commander arranges the supply of mortar shells with a wider fragmentation range. These can stun enemies more often.

Mortar: +4 Fragmentation radius; +20% Chance to stun

Lurker

Strategically placing AT mines on tank approach routes allows you to deal more damage and increase your chances of stunning the enemy with an explosion.

Anti-Tank Mines: +20% Chance to stun; +25% Damage to vehicles