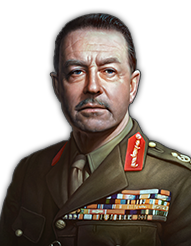 Harold Alexander
Commander of Preparation Fire
Description
BIOGRAPHY
"He was the life and soul of the attack, and throughout the day led forward not only his own men but men of all regiments," said Harold Alexander's appointment for the Distinguished Service Order.
Descended from a family of servicemen, Alexander was the third son of the 4th Earl of Caledon. He built his reputation in World War I, earning the love and respect of his troops. During the war, he was promoted from platoon commander to brigade commander.
He graduated from the staff academy in Camberley and the Imperial Defence College.
During World War II, he commanded the rescue operation of Allied forces in Dunkirk and would not leave the town until he was sure that all of his units had embarked. Later, he commanded British forces in the Middle East, where he won a sweeping victory over Italian and German forces in the Battle of El Alamein. He won a victory in the Tunisia campaign, fought in the Sicily and Italian Campaigns, and played a key role in capturing Rome.
EFFECTIVENESS ON THE BATTLEFIELD
An advocate of distance combat, Alexander prefers formations of machine gunners and tank destroyers, clearing the way for them with accurate artillery fire from howitzers and mortars.
Specializations
Talents
Howitzer Barrage

Several heavy shells that deal serious damage to all enemy units.

Howitzer Barrage: Supply Points required: less by 1

Attack Aircraft

Request an attack aircraft to attack targets in specified area.

Attack Aircraft: Supply Points required: less by 3

Storm of Lead

The well-coordinated actions of the gunner and the loader significantly increase the rate of fire and the shooting range of machine gun crews.

Machine Gunners: +10 Shot range; -40% Reload time

Reliable Soldiers

Experienced tank destroyer gunners are trained to deliver effective fire against group targets. The explosion radius and damage of their shots are increased.

Tank Destroyer: +25% Damage to infantry, Damage to vehicles; +4 Fragmentation radius

Ballistician

The skilful selection of coordinates for MLRS fire results in an extremely high chance of damaging the movement and aiming systems of enemy armoured vehicles.

Rocket Artillery: +10% Chance to jam weapon, Chance to damage tracks

Wall of Fire

The commander takes extra measures to improve the combat effectiveness of machine gun bunkers. The shooting range and damage dealt by all guns are increased.

MG Nest: +15 Shot range; +25% Damage to infantry, Damage to vehicles

Our Agents

The commander gains the locals' confidence and receives more accurate information on the area, which increases the effective shooting range of mortars and the chance of stunning the enemy.

Mortar: +20% Chance to stun; +15 Shot range

Succeed in Numbers

An extra loader is assigned to AA gun crews, increasing their rate of fire.

Anti-Aircraft Gun: -40% Reload time