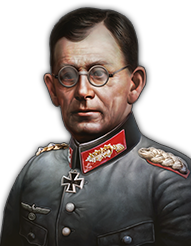 Maximilian von Weichs
Commander of Offensive Operations
Description
BIOGRAPHY
Maximilian von Weichs was born into the noble family of a German colonel in the town of Dessau. He joined the army in 1900 as a Fahnenjunker of the 2nd Bavarian Heavy Cavalry Regiment and served with cavalry units for a total of over 30 years. He fought in World War I as a brigade adjutant and General Staff officer and was awarded the Iron Cross of both classes.
He took part in the Polish campaign and assisted with the capture of Warsaw. He suppressed the last of the resistance forces in France. After the capitulation of Paris, he was awarded the Knight's Cross and promoted to colonel general. In the spring of 1941, Weichs directed the invasion of Yugoslavia.
Weichs entered the campaign against the USSR in late July 1941 with Army Group Centre. In cooperation with Guderian's tank troops, he took part in the offensives near Gomel, Kiev, and Bryansk. Later, as part of a special unit, he assisted with the capture of Voronezh.
He fought against a larger enemy force near Stalingrad, while suffering from a shortage of resources. After the Allies' landing at Sicily, he was appointed commander-in-chief of Army Group F and of German troops in Southeast Europe, where he fought against the growing guerrilla forces there.
He was promoted to field marshal general in 1943.
EFFECTIVENESS ON THE BATTLEFIELD
Relying on his experience and tactical knowledge, he can use spies, smoke screens, and engineers to capture any fortified positions. Light vehicles, medium and light tanks, assault infantry, and anti-tank squads are extremely effective under this commander.
Specializations
Talents
Large Smoke Screen

Prevents attacks within a certain range.

Large Smoke Screen: Supply Points required: less by 1

Paratrooper Squad

A squad of assault paratroopers will land in a random location on the map.

Paratrooper Squad: Supply Points required: less by 2

Staff Tactician

Informing officers about obstacles in the area in advance allows you to significantly increase the movement speed of assault infantry and medium/light tanks.

Medium Tank, Light Tank, Assault Infantry: +2 Movement speed; -20% Chance to hit the unit

Only Forward

Crews of light vehicles and light/medium tanks under this commander are accustomed to emergency repairs of their aiming systems and track assemblies. Supplying light and medium tanks with high-quality shells increases the damage they deal and their armour-piercing ability.

Light Vehicle, Medium Tank, Light Tank: +20% Armour penetration

Medium Tank, Light Tank: +20% Damage to infantry, Damage to vehicles; -4 Repair duration

Shoot and Run

This commander is well aware of the specifics of using anti-tank squads, namely sudden salvos and immediate retreats from the engagement area. The rate of fire and movement speed of anti-tank infantry are increased.

Anti-Tank Infantry: +2 Movement speed; -40% Reload time

Saboteur

The commander's attentive approach to combat engineering allows you to increase the killing power of mines.

Anti-Personnel Mines: +50% Damage to infantry

Anti-Tank Mines: +50% Damage to vehicles

Anti-Tank Mines, Anti-Personnel Mines: -20 Tracking range

Team Building

Dug-in anti-tank rifle crews deliver more accurate fire due to the cohesion they have learned in previous battles.

Anti-Tank Rifle: -40% Reload time; +50% Damage to vehicles

Blitz Defence

Deep insight into the principles of anti-tank weapons allows this commander to use anti-tank guns with maximum effectiveness: their shooting range is longer, and accurate shots have a chance of disabling enemy guns.

Anti-Tank Gun: +20% Chance to jam weapon; +15 Shot range