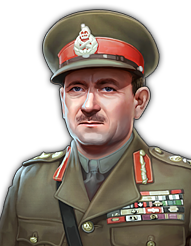 Charles Foulkes
Commander of Infantry Operations
Description
BIOGRAPHY
"Brave Charles," as his men called him, had a whirlwind career spanning 19 years. He began as a private in 1926, and by 1945 he was a Chief of the General Staff.
Charles Foulkes took part in the Normandy Campaign and, in November 1944, was made General Officer Commanding I Canadian Corps in Italy. In 1945, he accepted the surrender of German forces in the Netherlands.
EFFECTIVENESS ON THE BATTLEFIELD
This commander prefers infantry units, using his own experience as a soldier and junior officer to lead them. Infantry under his command have excellent combat training – storm troopers, antitank infantry, and snipers are very effective. To fortify a defensive position, this commander relies on machine gun pillboxes, mortars, and antitank hedgehogs.
Specializations
Talents
Paratrooper Squad

A squad of assault paratroopers will land in a random location on the map.

Paratrooper Squad: Supply Points required: less by 2

Large Smoke Screen

Prevents attacks within a certain range.

Large Smoke Screen: Supply Points required: less by 1

Proponent of Frontline Medicine

The commander sets up a field hospital, which gives soldiers careful medical exams before sending them into battle. This has a positive effect on the health of all infantry units.

Anti-Tank Infantry, Assault Infantry, Infantry: +30% Construction Quality (Vehicles) / Endurance (Infantry)

Battle Hardened

Experienced soldiers who can provide high-density fire in a given sector are the backbone of anti-tank infantry. Light vehicles receive a chance of damaging enemy optics.

Anti-Tank Infantry: -40% Reload time

Light Vehicle: +20% Chance to damage optics

Sports Shooter

This Commander's constant checks on operational readiness greatly affect the shooting range of snipers and anti-tank infantry.

Anti-Tank Infantry, Infantry: +10 Aimed shot range from entrenched position; +10 Shot range

Optimizer

Bunkers are equipped with supports to stabilize anti-tank weapons, increasing their armour-piercing ability and the damage they deal.

MG Nest: +25% Damage to vehicles; +20% Armour penetration

Spare No Bullets!

Extra ammo supplied in good time provides a high rate of fire from bunkers and mortars.

MG Nest: -40% Reload time

Mortar: -40% Reload time

Improvised Construction

Anti-tank obstructions are reinforced by railroad rails, giving them extra strength and making them able to sustain more damage.

Obstruction: +60% Construction Quality (Vehicles) / Endurance (Infantry)