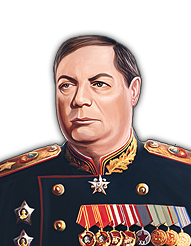 Fyodor Ivanovich Tolbukhin
Commander of Infantry Operations
Description
BIOGRAPHY
During World War II, the Red Army defeated Germans in eight capital cities: Berlin, Belgrade, Budapest, Bucharest, Warsaw, Vienna, Prague, and Sofia. Three of these, the capitals of Romania, Bulgaria and Yugoslavia, were captured by the 3rd Ukrainian Front under the command of Fedor Ivanovich Tolbukhin. In cooperation with the 2nd Ukrainian Front, he also liberated the capitals of Austria and Hungary.
But his youth did not seem like one of a future Hero of the Soviet Union. Fedor Ivanovich was born in the village of Androniki, Yaroslavl governorate, in 1894. His uncle helped him move to Saint Petersburg, where he graduated from a commercial academy and began work as an accountant. Upon the death of his uncle and the looming threat of war, a new life began for Tolbukhin. He joined military service, serving with division staff as a motorcyclist. He later completed accelerated officer courses and returned to the battlefield, where those officers who managed to survive were rapidly promoted. In the summer of 1916, he took part in the legendary Brusilov Offensive. He finished the war as a staff captain.
After the revolution, he led a local military commissariat, completed staff service courses, and took part in a number of Civil War battles, during which he was recognized with a number of decorations. He then completed higher academic courses at the Frunze Military Academy and extension courses for commanders and ultimately graduated from the operations department of the Frunze Military Academy.
Tolbukhin built a reputation as a hasteless and prudent man, who never let himself lose his temper and always strived for learning. In June 1940, upon the introduction of general officer ranks to the Red Army, he was promoted to the rank of major general.
EFFECTIVENESS ON THE BATTLEFIELD
"Dig yourself deep," General Tolbukhin would advise his soldiers. "Mother earth will save you from everything: from fire to bad weather." This commander prefers to use infantry units: paratroopers, AT infantry, and snipers. Under his command, infantry units are better protected and have improved combat skills. When defending, he relies on machine gun pillboxes, mortars, and antitank hedgehogs.
Specializations
Talents
Paratrooper Squad

A squad of assault paratroopers will land in a random location on the map.

Paratrooper Squad: Supply Points required: less by 2

Large Smoke Screen

Prevents attacks within a certain range.

Large Smoke Screen: Supply Points required: less by 1

Proponent of Frontline Medicine

The commander sets up a field hospital, which gives soldiers careful medical exams before sending them into battle. This has a positive effect on the health of all infantry units.

Anti-Tank Infantry, Assault Infantry, Infantry: +30% Construction Quality (Vehicles) / Endurance (Infantry)

Battle Hardened

Experienced soldiers who can provide high-density fire in a given sector are the backbone of anti-tank infantry. Light vehicles receive a chance of damaging enemy optics.

Anti-Tank Infantry: -40% Reload time

Light Vehicle: +20% Chance to damage optics

Sports Shooter

This Commander's constant checks on operational readiness greatly affect the shooting range of snipers and anti-tank infantry.

Anti-Tank Infantry, Infantry: +10 Aimed shot range from entrenched position; +10 Shot range

Optimizer

Bunkers are equipped with supports to stabilize anti-tank weapons, increasing their armour-piercing ability and the damage they deal.

MG Nest: +25% Damage to vehicles; +20% Armour penetration

Spare No Bullets!

Extra ammo supplied in good time provides a high rate of fire from bunkers and mortars.

MG Nest: -40% Reload time

Mortar: -40% Reload time

Improvised Construction

Anti-tank obstructions are reinforced by railroad rails, giving them extra strength and making them able to sustain more damage.

Obstruction: +60% Construction Quality (Vehicles) / Endurance (Infantry)