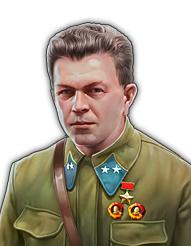 Ivan Petrovich Zhuravlyov
Commander of Aircraft
Description
BIOGRAPHY
The future commander of the 14th Air Army distinguished himself as early as the Winter War with Finland, during which he flew 18 night missions in zero visibility and terrible weather conditions which made the rest of the front-line aviation troops unable to operate. Major Zhuravlyov also tested a new low-altitude bombing method, using bombs equipped with parachutes. His 2nd squadron of the 85th Special High-Speed Bomber Regiment was as good as its commander, completing 185 missions in severe weather conditions, including night missions.
Zhuravlyov's courage was recognized with the title of Hero of the Soviet Union, with the Gold Star medal and a second Order of Lenin, awarded to him on April 7, 1940.
When World War II broke out, Zhuravlyov held the position of Deputy Air Commander in the Leningrad military district. He later held the same position with the Northern and Leningrad Fronts, commanding the operational team of the Leningrad Front. During the first three months of the war, the pilots in this battle destroyed 895 enemy aircraft, including 583 aircraft shot down in air combat. They also conducted more than 20 ram attacks.
The 14th Air Army, commanded by Zhuravlyov, took part in the Sinyavino Offensive, Operation Iskra, the Mga and Leningrad-Novgorod Offensives, the Pskov-Ostrov Operation, and the Tartu, Riga, and Baltic Offensives.
EFFECTIVENESS ON THE BATTLEFIELD
On the battlefield, Zhuravlyov uses his vast experience and knowledge to command reconnaissance and attack aircraft. He uses mobile ground forces to quickly gain the tactical advantage after fierce bombardment of the enemy's positions. When defending, he relies on firing positions, howitzers, and AT guns.
Specializations
Talents
Reconnaissance Aircraft

Request a reconnaissance plane, which can locate enemy forces on the map.

Reconnaissance Aircraft: Supply Points required: less by 3

Bomber

Call in a heavy bomber to launch a heavy bomb strike at the target area.

Bomber: Supply Points required: less by 2; -60 Seconds reload time

Clear Look

Light vehicles get extra screens in front of their viewports. This innovation is meant to increasing the driver/mechanic's sight range by protecting them from mud, stones, and precipitation.

Light Vehicle: +15 Sight range

Only the Best for Our Men

High-quality fuel delivered to the front positively affects the engine performance of light and medium tanks and increases their speed.

Medium Tank, Light Tank: +30% Movement speed

Drilling

Route marches in full gear conducted by the commander greatly increase the movement speed of assault infantry.

Assault Infantry: +30% Movement speed

Prewar Resources

The sight range of AT rifle crews is increased thanks to high-quality periscope sights.

Anti-Tank Rifle: +15 Sight range

Closed Sky

To improve air defence measures, the commander conducts extra training for loaders, increasing the rate of fire of AA guns.

Anti-Aircraft Gun: -40% Reload time

Hold the Enemy at Bay!

The Commander orders the delivery of howitzers with a greater shooting range.