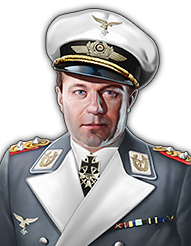 Ernst Udet
Commander of Aircraft
Description
BIOGRAPHY
This future ace was born into the family of a Munich entrepreneur. His father was an owner of a sanitation equipment factory, which helped the boy join the army – and later the air force, which he had been obsessed with since visiting an air show at the age of 12. A family legend, however, says he was first introduced to aeronautics by jumping off the roof of his house while holding an umbrella.
When World War I broke out, he served as a courier for a newly-formed unit. He was admitted since he owned a motorcycle, a present from his father. He soon realized his dream of an aviation career. According to some sources, this was thanks to his father's help, too, who paid his tuition fees and had the aircraft factory owner's bathroom mended.
In the air, Ernst won a number of glorious victories, resulting in his transfer to Baron von Richthofen's Jagdgeschwader 1, where future Reichsminister of Aviation Hermann Goering was also serving.
By the end of the war, Udet had 62 confirmed aircraft kills, making him Germany's second-highest scoring ace after Manfred von Richthofen, who had 80. In addition, he won the Iron Cross, 2nd Class, for returning his damaged plane, its wing being held on by his lieutenant, back to base.
Between the wars, Udet became involved in aircraft manufacturing. He also held air shows, shot films, and established civil airlines. When Germany began rebuilding its Luftwaffe, Ernst was first on Goering's list.
Despite his authority and high position as the Chief of the Luftwaffe's Technical Office, he still piloted aircraft himself. In particular, he conducted flight-tests of new airplanes.
EFFECTIVENESS ON THE BATTLEFIELD
Ernst successfully uses reconnaissance and attack airplanes in his offensive operations, relying on his own piloting experience and technical background. As for ground forces, he prefers using mobile troops to aggressively seize the tactical advantage after fierce bombardment of the enemy's positions. When defending, he relies on machine gun pillboxes, howitzers, and AT guns.
Specializations
Talents
Reconnaissance Aircraft

Request a reconnaissance plane, which can locate enemy forces on the map.

Reconnaissance Aircraft: Supply Points required: less by 3

Bomber

Call in a heavy bomber to launch a heavy bomb strike at the target area.

Bomber: Supply Points required: less by 2; -60 Seconds reload time

Clear Look

Light vehicles get extra screens in front of their viewports. This innovation is meant to increasing the driver/mechanic's sight range by protecting them from mud, stones, and precipitation.

Light Vehicle: +15 Sight range

Only the Best for Our Men

High-quality fuel delivered to the front positively affects the engine performance of light and medium tanks and increases their speed.

Medium Tank, Light Tank: +30% Movement speed

Drilling

Route marches in full gear conducted by the commander greatly increase the movement speed of assault infantry.

Assault Infantry: +30% Movement speed

Prewar Resources

The sight range of AT rifle crews is increased thanks to high-quality periscope sights.

Anti-Tank Rifle: +15 Sight range

Closed Sky

To improve air defence measures, the commander conducts extra training for loaders, increasing the rate of fire of AA guns.

Anti-Aircraft Gun: -40% Reload time

Hold the Enemy at Bay!

The Commander orders the delivery of howitzers with a greater shooting range.