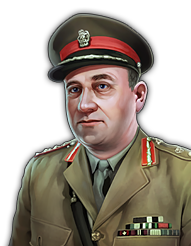 Sydney Valpy Radley-Walters
Commander of Tank Operations
Description
BIOGRAPHY
Sydney Radley-Walters, nicknamed "Rad," was a tank ace from Canada. He was commissioned in the Sherbrooke Fusilier Regiment, later renamed the 27th Armoured Regiment. In October 1942, he and his regiment set off for Great Britain.
He participated in the landing in Normandy on D-Day, destroying an enemy tank within the first 24 hours. Some sources say it was Radley-Walters's unit that destroyed the tank belonging to Germany's "The Black Baron," Michael Wittmann.
Radley-Walters participated in Operation Market-Garden, relieving the USA's 101st Airborne Division. He became the ace of aces of the western Allies, with 18 tank kills besides many other armoured vehicles.
EFFECTIVENESS ON THE BATTLEFIELD
In battle, he relies on a combination of tanks and tank destroyers. When defending, he prefers machine gun pillboxes, AT rifles, and AP mines.
Specializations
Talents
Large Smoke Screen

Prevents attacks within a certain range.

Large Smoke Screen: Supply Points required: less by 1

Reconnaissance Aircraft

Request a reconnaissance plane, which can locate enemy forces on the map.

Reconnaissance Aircraft: Supply Points required: less by 2

Skilled Tanker

All tanks and tank destroyers now use advanced composite armour.

Medium Tank, Heavy Tank, Light Tank, Tank Destroyer: +30% Construction Quality (Vehicles) / Endurance (Infantry)

Personal Tank Doctrine

Extensive knowledge of military logistics allows this General to significantly increase the movement speed of his heavy tanks. Well-trained tank destroyer loaders bring down a hail of shells on enemy tankers.

Heavy Tank: +30% Movement speed

Tank Destroyer: -40% Reload time

Responsible Supplier

High-explosive shells ordered by the commander allow light and medium tanks to be highly effective at hitting group targets and at disabling the track assemblies of enemy armoured vehicles.

Medium Tank, Light Tank: +4 Fragmentation radius (AP); +4 Fragmentation radius (AT); +20% Chance to damage tracks

Eagle Eye

The commander gives the orders to provide the gunners of AT rifle crews and bunkers with new optics that allow them to open fire on the enemy's coordinates in advance.

MG Nest: +8 Shot range

Anti-Tank Rifle: +8 Shot range

Briefing Specialist

The commander personally instructs anti-tank rifle crews, pointing out the weak points of enemy vehicles. They can deal more damage and, if they are lucky, even immobilize them.

Anti-Tank Rifle: +25% Damage to vehicles; +20% Chance to damage tracks

Sapper Tactician

An innovative approach to mine planting allows this commander to significantly increase the blast radius of anti-personnel mines.

Anti-Personnel Mines: +5 Fragmentation radius (AT)