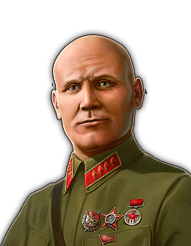 Ivan Stepanovich Konev
Commander of Combined Operations
available only in Strategic Edition
Description
BIOGRAPHY
This Marshal and Hero of the Soviet Union began his military service in the Imperial Russian Army, serving with a heavy artillery brigade. In 1917, he was sent to the front. After demobilization in 1918, he joined the Bolshevik party and was an active participant in the Russian Civil War. By World War II, he was the head of the North Caucasus Military Districts.
After successful operations with his 19th Army, Konev was given command of the Kalinin Front on September 11, 1941, and was promoted to Colonel General one day later. However, a string of failures followed, all the way up to 1943, when Konev was named commander of the forces of the Steppe Front.
He fought in the Battle of Kursk, the fight for the Dnieper, the liberation of Kharkov, Belgorod, Poltava and Kremenchug, and in the Pyatikhat, Kirovograd, and Znamensk operations. But Konev's great talent as a commander was truly revealed during the Korsun–Shevchenkovsky Offensive, where he dramatically outplayed Field Marshal von Manstein. Some have rightly called it "Stalingrad on the Dnieper."
For his success, Ivan Konev was promoted to the rank of Marshal of the Soviet Union. As marshal, he led the brilliant Umansk-Botoshansk Operation and was entrusted with the first troops from the Red Army to cross the Soviet border into Romania. In July and August 1944, Konev smashed Josef Harpe's army group in the Lvov-Sandomierz Offensive.
This action earned Ivan Konev the title of Hero of the Soviet Union with the Order of Lenin and a Gold Star medal on July 29, 1944. Six months later, the troops interfered with the Germans' planned destruction of the industry of Silesia, which was economically invaluable to allied Poland.
In February of 1945, Konev's troops conducted the Lower Silesian Offensive. In March, the Upper Silesian Offensive followed. Both were significant successes. Konev's armies continued to achieve great success in the Berlin and Prague operations.
Marshal Ivan Konev was awarded a second Gold Star medal on June 1, 1945, for his exemplary leadership of his troops in the closing operations of World War II.
EFFECTIVENESS ON THE BATTLEFIELD
Konev brings all of his experience, both from his devastating defeats and his brilliant victories, to bear on his campaigns. He pays special attention to training tank crews and to anti-tank measures. His attack plans are developed and fine-tuned according to the latest intelligence, and his special units are trained to capture enemy fortifications quickly and efficiently.
Specializations
Talents
Howitzer Barrage

Several heavy shells that deal serious damage to all enemy units.

Howitzer Barrage: Supply Points required: less by 1

Paratrooper Squad

A squad of assault paratroopers will land in a random location on the map.

Paratrooper Squad: Supply Points required: less by 1

Training Manager

The anti-tank weapon training organized by Konev allows you to see weak points in the armour of heavy tanks. His anti-tank infantry squads have extra experience, letting them fire more accurately and deal greater damage.

Heavy Tank: +15% Armour

Anti-Tank Infantry: +5 Shot range; +25% Damage to vehicles

Experienced Personnel Officer

Assault infantry under Konev's command are able to hold under enemy fire longer and get to shooting position quicker. Light and medium tanks fight well against infantry due to the longer range of their high-explosive shells.

Medium Tank, Light Tank: +4 Fragmentation radius (AT); +25% Damage to infantry

Assault Infantry: +30% Construction Quality (Vehicles) / Endurance (Infantry); +2 Movement speed

Tank Professional

Konev takes large-scale action to reequip his armored forces. Light and medium tanks are equipped with new stabilizers and observation instruments that increase their rate of fire and accuracy range. Heavy tanks have their optics replaced and their shooting range increased.

Medium Tank, Light Tank: +5 Shot range; -25% Reload time

Heavy Tank: +5 Shot range

Master of Ambush

Anti-tank rifle crews have received new uniforms and weapons. They are now more difficult to spot, and their accurate shots have a chance of hitting enemy optics.

Anti-Tank Rifle: -20 Tracking range; +20% Chance to damage optics

Tank Fighter

Daily shooting practice is arranged for anti-tank artillery. Now these gun crews have higher chances of stunning enemy units or hitting them with shell fragments.

Anti-Tank Gun: +4 Fragmentation radius (AP); +20% Chance to stun

Large Calibre

Howitzers now deal increased damage.

Howitzer: +25% Damage to infantry, Damage to vehicles