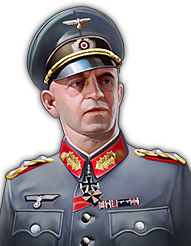 Ernst Busch
Commander of Infantry Operations
Description
BIOGRAPHY
Busch began his military career as early as 12 years old, after studying at the cadet academy in Bensberg and the military academy of Gross-Lichterfelde. He later also graduated from the military academy in Kassel.
At the beginning of World War I, which he spent on the front lines of the Western Front, the skilled officer was appointed company commander. He was injured twice, awarded a number of decorations, and promoted to battalion commander. By the beginning of World War II, he was an infantry general.
He took part in the Invasion of Poland, captured Krakow, and was appointed the commander of the 16th Army. He led that army for 4 years before being promoted to the command of Army Group Centre.
On the Western Front, Ernst continued developing the advantage gained in Poland. He captured Demyansk, took part in the siege of Leningrad, and repelled Soviet attacks at Staraya Russa, Orsha, and Vitebsk. Despite all of his great victories in World Wars I and II, he suffered one great defeat in 1944's Operation Bagration, when the Red Army dealt a crushing blow to Germans near Minsk. At the end of the war, he commanded the Wehrmacht in the Northwest and defended Germany from Montgomery's advancing troops.
EFFECTIVENESS ON THE BATTLEFIELD
His vast experience with infantry operations helps him complete missions most effectively with the use of paratroopers, AT infantry, and snipers. In defensive operations he relies on machine gun pillboxes, mortars, and AT obstructions. When attacking, he prefers paratroopers, infantry reserves, and capturing enemy fortifications for his own use.
Specializations
Talents
Paratrooper Squad

A squad of assault paratroopers will land in a random location on the map.

Paratrooper Squad: Supply Points required: less by 2

Large Smoke Screen

Prevents attacks within a certain range.

Large Smoke Screen: Supply Points required: less by 1

Proponent of Frontline Medicine

The commander sets up a field hospital, which gives soldiers careful medical exams before sending them into battle. This has a positive effect on the health of all infantry units.

Anti-Tank Infantry, Assault Infantry, Infantry: +30% Construction Quality (Vehicles) / Endurance (Infantry)

Battle Hardened

Experienced soldiers who can provide high-density fire in a given sector are the backbone of anti-tank infantry. Light vehicles receive a chance of damaging enemy optics.

Anti-Tank Infantry: -40% Reload time

Light Vehicle: +20% Chance to damage optics

Sports Shooter

This Commander's constant checks on operational readiness greatly affect the shooting range of snipers and anti-tank infantry.

Anti-Tank Infantry, Infantry: +10 Aimed shot range from entrenched position; +10 Shot range

Optimizer

Bunkers are equipped with supports to stabilize anti-tank weapons, increasing their armour-piercing ability and the damage they deal.

MG Nest: +25% Damage to vehicles; +20% Armour penetration

Spare No Bullets!

Extra ammo supplied in good time provides a high rate of fire from bunkers and mortars.

MG Nest: -40% Reload time

Mortar: -40% Reload time

Improvised Construction

Anti-tank obstructions are reinforced by railroad rails, giving them extra strength and making them able to sustain more damage.

Obstruction: +60% Construction Quality (Vehicles) / Endurance (Infantry)