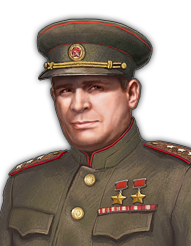 Ivan Danilovich Chernyakhovsky
Commander of Tank Operations
Description
BIOGRAPHY
The youngest ever Soviet general of the army – and youngest ever Soviet commander of a front – was born in 1906 in the Kiev Governorate. He worked as a shepherd, railroad station worker, and cement factory employee before enlisting in the Workers' and Peasants' Red Army.
His service in the Red Army began with training at an infantry school; however, he was transferred to artillery school, which he completed in 1928. In 1931, he entered a military-technical academy in Leningrad, and in 1932 he joined the Military Academy of Mechanization and Motorization of the Workers' and Peasants' Red Army, which he graduated in 1936 as a senior lieutenant. He rose quickly in rank, becoming a brigade commander in 1938 and division commander in 1941.
Ivan Chernyakhovsky's greatest talents were exhibited in 1942–44, when he commanded the 60th Army and participated in the Voronezh-Kastornoe Operation, fought in the Battle of Kursk, forced the Desna and Dnieper rivers, and participated in military operations at Kiev, Zhitomir-Berdichev, and Rovno-Lutsk, plus the Proskurov-Chernovtsy Offensive operation. It was Chernyakhovsky's army that played the decisive role in the rapid liberation of Kursk, by dealing an unexpected sudden blow deep into the enemy's flank.
On February 14, 1943, he was promoted to lieutenant general. He was named Hero of the Soviet Union on October 17 of that year. From April 1944 on, Chernyakhovsky successfully commanded the 3rd Belorussian Front, fighting in Operation Bagration, the Vilnius Offensive, the Kaunas Offensive, the Memel Offensive Operation, the Gumbinnen Operation, and the Eastern Prussian Operation.
On June 28, 1944, he was promoted to General of the Army, becoming the youngest General of the Army in the Workers' and Peasants' Red Army at 37 years old. Shortly thereafter, on July 29, 1944, he was awarded a second Gold Star medal for his army's successful campaigns to liberate Vitebsk, Minsk, and Vilnius.
EFFECTIVENESS ON THE BATTLEFIELD
General Chernyakhovsky once said, "I don't want to die in my bed. I'd rather perish in the heat of battle." When attacking, he prefers aggressive tactics, hitting the opponent hard with armoured vehicles. When defending, he relies on machine gun pillboxes, AT rifles, and AP mines.
Specializations
Talents
Large Smoke Screen

Prevents attacks within a certain range.

Large Smoke Screen: Supply Points required: less by 1

Reconnaissance Aircraft

Request a reconnaissance plane, which can locate enemy forces on the map.

Reconnaissance Aircraft: Supply Points required: less by 2

Skilled Tanker

All tanks and tank destroyers now use advanced composite armour.

Medium Tank, Heavy Tank, Light Tank, Tank Destroyer: +30% Construction Quality (Vehicles) / Endurance (Infantry)

Personal Tank Doctrine

Extensive knowledge of military logistics allows this General to significantly increase the movement speed of his heavy tanks. Well-trained tank destroyer loaders bring down a hail of shells on enemy tankers.

Heavy Tank: +30% Movement speed

Tank Destroyer: -40% Reload time

Responsible Supplier

High-explosive shells ordered by the commander allow light and medium tanks to be highly effective at hitting group targets and at disabling the track assemblies of enemy armoured vehicles.

Medium Tank, Light Tank: +4 Fragmentation radius (AP); +4 Fragmentation radius (AT); +20% Chance to damage tracks

Eagle Eye

The commander gives the orders to provide the gunners of AT rifle crews and bunkers with new optics that allow them to open fire on the enemy's coordinates in advance.

MG Nest: +8 Shot range

Anti-Tank Rifle: +8 Shot range

Briefing Specialist

The commander personally instructs anti-tank rifle crews, pointing out the weak points of enemy vehicles. They can deal more damage and, if they are lucky, even immobilize them.

Anti-Tank Rifle: +25% Damage to vehicles; +20% Chance to damage tracks

Sapper Tactician

An innovative approach to mine planting allows this commander to significantly increase the blast radius of anti-personnel mines.

Anti-Personnel Mines: +5 Fragmentation radius (AT)