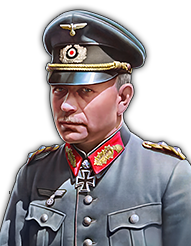 Heinz Wilhelm Guderian
Commander of Tank Operations
available only in Strategic Edition
Description
BIOGRAPHY
"Schneller Heinz" ("Fast Heinz") or "Hammering Heinz," as he was called, is considered the father of motorized warfare. He pioneered tank construction in Germany and around the world. He climbed from ensign-cadet to colonel general and Inspector General of Armoured Troops.
During World War I, Guderian served as a Signals Officer, codebreaker, intendant, quartermaster, intelligence director, and a member of the General Staff Corps. He received a number of awards. After the war, he continued his service with the Reichswehr and commander of the XVI Army Corps by the beginning of World War II.
During the Invasion of France, Guderian made the Blitzkrieg strategy a reality, spearheading the assault with his own division, far ahead of the rest. However, his immediate superior, General Field Marshal Kluge, required he follow orders more closely instead of acting independently. This began a tense relationship between them. At the end of the campaign, Guderian was promoted to colonel general.
In 1941, Guderian lead Panzergruppe 2, which drove with crushing success into Soviet territory. The Blitzkrieg doctrine allowed him to pierce far into Soviet territory, surrounding enemy forces and trapping the Workers' and Peasants' Red Army on the Southwestern Front at Kiev.
On February 28, 1943, Guderian became the Inspector General of Armoured Troops. He personally supervised the introduction of many changes to tank construction, often inspecting factories, shooting ranges, and testing grounds.
From July 1944 to March 1945, Guderian was Chief Staff of the Army.
EFFECTIVENESS ON THE BATTLEFIELD
This commander relies on a rapid, crushing attack by an armoured spearhead force, actively supported by assault infantry and machine gunners. Heavy and medium tanks are well-protected and fast.
Specializations
Talents
Attack Aircraft

Request an attack aircraft to attack targets in specified area.

Attack Aircraft: Supply Points required: less by 2

Paratrooper Squad

A squad of assault paratroopers will land in a random location on the map.

Paratrooper Squad: Supply Points required: less by 1

Armadillo

Guderian's tank destroyers and heavy tanks have increased survivability, while medium and light tanks receive an extra layer of armour.

Heavy Tank, Tank Destroyer: +30% Construction Quality (Vehicles) / Endurance (Infantry)

Medium Tank, Light Tank: +15% Armour

Fast Heinz

Under Fast Heinz's command, heavy tanks, tank destroyers, and assault infantry are able to cover a significant distance in a short time.

Heavy Tank, Tank Destroyer, Assault Infantry: +2 Movement speed

Squad Interaction

Refurbished medium and light tanks have a greater chance of damaging enemy optics. Experienced machine gunners can easily provide a burst of fire in a given sector, dealing colossal damage both to enemy infantry and to armoured vehicles (with grenades).

Medium Tank, Light Tank: +20% Chance to damage optics

Machine Gunners: -40% Reload time; +25% Damage to infantry, Damage to vehicles

Outpost

The commander orders more reinforcing bars be used when concrete is poured for bunkers, improving their armour and total strength.

MG Nest: +30% Construction Quality (Vehicles) / Endurance (Infantry); +15 Armour

Mining Expert

Guderian insists on searching for more effective means of mine laying for every type of terrain. The blast radius and the chance of stunning the enemy with an explosion are increased.

Anti-Tank Mines: +20% Chance to stun; +4 Fragmentation radius (AP)

Anti-Personnel Mines: +20% Chance to stun; +4 Fragmentation radius (AT)

Progressive Optics

State-of-the-art guidance systems increase the effective range of anti-tank guns.

Anti-Tank Gun: +12 Shot range